Got an important party or event on the horizon? Well, the first thing to do is make sure that you've adorned every inch of the venue (or your home) with plenty of mouthwatering appetizers, entrees, small bites, and of course, desserts.
Fortunately, we're here to help you navigate the roads of planning your festivity with this guide to the Best Catering Companies near Bloomington, IL. Once you've gotten the scoop on these local epicurean emporiums, you'll hear plenty of raving compliments from your family and friends.
Custom Catering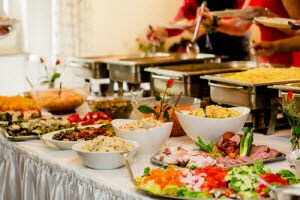 Regardless of the type of event you're hosting at your home or another venue, it's essential that you're presented with a menu that'll tantalize the taste buds of both you and your guests.
And at Custom Catering, the expert chefs have crafted a personalized menu of delectable delights that'll have you enjoying every bite you taste—from the appetizers to the desserts, and everything in between.
Got a party of meat lovers attending your festivities? If so, check out their starters like BBQ Meatballs, Cocktail Franks, Swedish Meatballs, and more. In addition, you're free to update and alter the menu to suit your unique palette and preferences.
Having a more casual affair? Well, this local purveyor serves up all the appropriate cutlery to match the atmosphere of your event—whether you want disposable tableware, fine china, or anything in between.
Take a look at what some of their satisfied customers have to say on The Knot.
Keller's Iron Skillet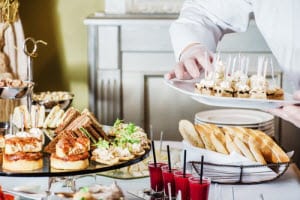 Want to bring your favorite local dive to the bellies of your guests? If so, Keller's Iron Skillet is the place for you.
This ever-popular, homegrown joint has been serving up plenty of twists on classic catering fare for over thirty years. With that kind of experience, you can trust that every morsel of grub has been designed to please the crowd.
For example, their succulent Prime Rib takes any occasion to the next level with its crunchy outer crust, juicy center, and rich au jus. Or try out their famous Halibut Au Gratin, which is sure to deliver a punch of flavor to your senses.
On top of that, their convenient catering packages help you choose the right amount of food for your guests. That way, you won't run out of chow or find yourself with heaps of leftovers once those stragglers have left the dance floor.
Check out their Facebook page for a few photos of their heavenly dishes.
Nelson's Catering
You like being a little different. So, when you're planning your wedding, make sure that you keep all your attendees guessing by choosing one of the endless options at Nelson's Catering.
With the help of these cuisine crafters, you'll decorate your venue with the tapas or entrees—or even the foodie-centric serving stations—you need to prove that you've got some great taste in food.
Plus, these flavor experts stay in touch with current trends, so your family and friends will be "wowed" as soon as they set foot into your reception.
Want to try out something that'll truly surprise your guests? Well, opt for their Mac & Cheese Bar, which allows your guests to dress that beloved side dish with all types of toppings, like Crispy Bacon Bits, Mushrooms, Crispy Onions, Broccoli, and so much more.
And, if you happen to be a barbecue-lover, this local destination has a penchant for doling out some of your favorite charred, smoked meats. So, no matter if you want to serve Nelson's Pulled Pork, Smoked Beef Brisket, or anything else, you'll snag lots of compliments on your wedding food selection.
Visit their Facebook to learn more about their upcoming appearances at Bridal Expos!