Whether you're looking for a sedan, a crossover, a pickup truck or something else entirely, finding the right model suited for your needs can be tough. The automotive market is very competitive especially if you want a sedan or crossover, so you need to be sure you're getting the right new model before you sign on the dotted line.
Every automaker's website is only going to show the best features of their vehicle which is why you have to do some additional research to get the full story. BMW of Bloomington is ready to help. We've put together numerous car comparisons that put the best vehicles on the market against each other. Learn more about our car comparisons and discover how they can help you find your next ride in the Bloomington, Normal and Champaign areas.
3 Series
BMW 3 Series vs. Audi A4
BMW 3 Series vs. Mercedes C-Class
5 Series
X3
X5
BMW X5 vs. Audi Q7
Why You Need Car Comparisons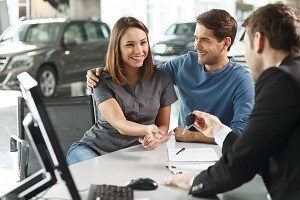 Every driver wants something different, but the basic necessities are all the same. You need a car that's reliable above all else which is why our comparisons all make sure to focus on reliability. That's just the beginning, however. We understand that each class of car has its own particular features which is why you can expect them to be showcased as well. For examples, sedan comparisons commonly feature sections on performance while crossover comparisons will certainly focus on interior space.
Buying any car is a big decision which is why you need all the facts before you commit. With the help of our car comparisons, you can learn exactly what you're getting into every time. Each comparison we have features two of the best vehicles from their class, ones that people commonly have to choose between. With our comparisons, you'll have all the essential differences detailed in one convenient place.
Visit BMW of Bloomington
Our car comparisons are just the beginning. If you want to make sure you're making an informed decision regarding your next car purchase, head to BMW of Bloomington. We're your premier BMW dealer in the Bloomington, Normal and Champaign areas. Not only do we have an incredible selection of new BMW vehicles, but our pre-owned inventory contains vehicles of various makes and models. We're certain to have something fitting your needs.
When you stop by our dealership, you can be sure you're getting the service you deserve. Our friendly team is happy to offer all the knowledge and help you need whether you're ready to buy or just have a few questions. Visit us or call (888) 725-2594 today to learn more about what BMW of Bloomington can offer you!