2021 BMW X5 Towing Capacity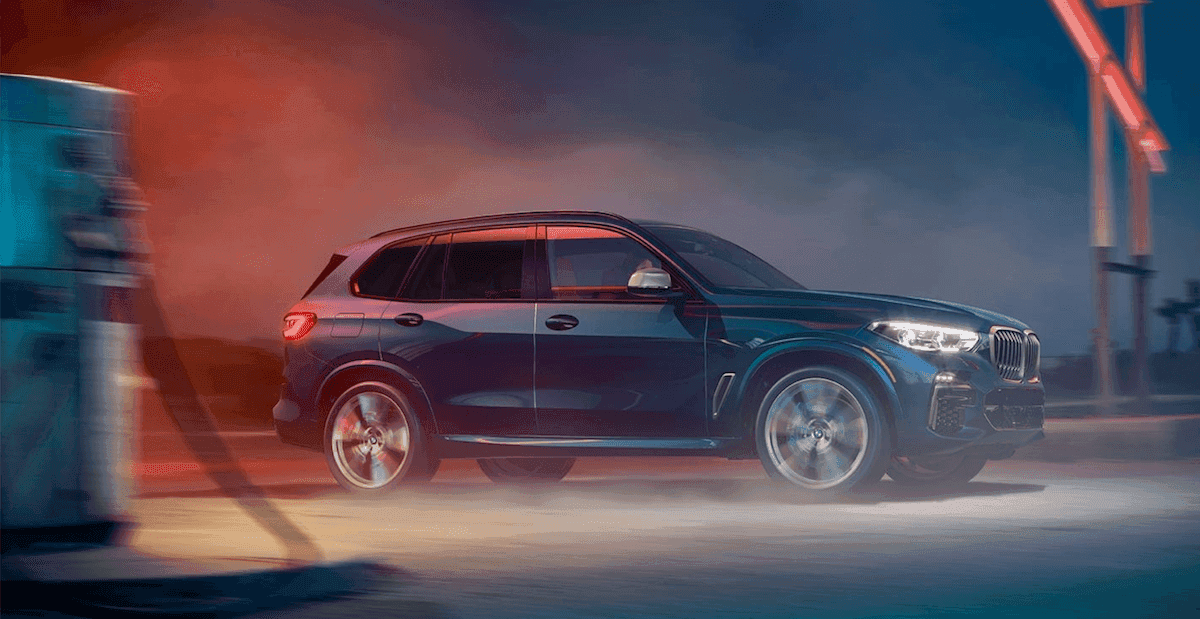 The 2021 BMW X5 towing capacity can reach up to 7,200 pounds when properly equipped, meaning that drivers can go the extra mile with their campers, boats, and off-road vehicles. Learn more about the BMW X5 towing capacity below, then explore the BMW X5 interior to see how you can relax on your way to your next adventure.
BMW X5 Towing Capacity By Engine
For its 2021 model year, the BMW X5 offers three powertrain options for Normal drivers to choose from. The BMW X5sDrive40i and the BMW X5 xDrive40i have the same engine, but the difference in their drivetrains changes their towing capacities and payload capacities. See the 2021 BMW X5 towing capacity by trim level below:
BMW X5 sDrive40i 3.0L Twin-Turbo V6 engine — RWD, 335 hp, 330 lb-ft of torque
7,200 pounds maximum towing capacity
827 pounds payload capacity
4,758 pounds curb weight
BMW X5 xDrive40i 3.0L Twin-Turbo V6 engine — AWD, 335 hp, 330 lb-ft of torque
6,602 pounds maximum towing capacity
849 pounds payload capacity
4,813 pounds curb weight
BMW xDrive50i 4.4L TwinPower Turbo V8 engine — AWD, 456 hp, 479 lb-ft of torque
6,603 pounds maximum towing capacity
871 pounds payload capacity
5,170 pounds curb weight
BMW X5 M50i 4.4L TwinPower Turbo V8 engine — AWD, 523 hp, 553 lb-ft of torque
7,200 pounds maximum towing capacity
882 pounds payload capacity
5,260 pounds curb weight
2021 BMW X5 Towing Package
In order to get the maximum 7,200 pound towing capacity on the BMW X5 X5 xDrive40i or X5 xDrive50i, Decatur drivers will need to opt for the factory-installed BMW X5 tow hitch. This Class III tow hitch only costs around $550 and it will allow you to pull your favorite vacation accessories without issue.
2021 BMW X5 Off-Road Package
If your next outdoor adventure takes you off the beaten path, then you'll want to opt for the BMW Off-Road Package for increased power and safety. For around $3,950 Pekin drivers will have access to the following features:
Two-Axle Air Suspension: The vehicle can raise and lower itself by 1.6 inches when traveling at low speeds with this suspension system.
Electronically-Controlled Rear Differential Lock: The M Sport Differential gives the X5 benefits a rear-wheel locking effect that improves control during cornering.
xOffroad Package: This package includes front and rear underguard elements, a mechanical differential lock, and four off-roading drive modes to optimize the right vehicle height and powertrain settings for different types of terrain: Sand, Rocks, Gravel, and Snow.
Test Drive The BMW X5 in Bloomington Today
Now that you know more about the 2021 BMW X5 towing capacity, come see everything the BMW X5 has to offer at BMW of Bloomington! Our friendly staff will show you each BMW X5 configuration and their optional packages so you can find the right build for your family. You can also compare the 2021 BMW X5 with competitors like vs Porsche Cayenne to see how the BMW X5 outpaces its competition. Stop in today, we look forward to putting you behind the wheel of a new BMW SUV!
More BMW Models & Features
The 2021 BMW X3continues to push the envelope when it comes to compact SUVs, with great interior features and impressive performance specs. The 2021 BMW X3 towing capacity goes up to 4,400 pounds with the right equipment. BMW of Bloomington covers your engine options, performance specs, and other perks of BMW towing below! View X3 Models…

If you want a versatile luxury vehicle with plenty of space for your Normal travels, then the 2021 BMW X5 is an obvious choice. Not only can you adapt the X5 seating to free up extra passenger or cargo space as needed, but the X5 dimensions are spacious enough to really stretch out over…

Have you heard about the latest BMW X3? This new version updates the already-impressive specs of this high-performance compact SUV. Another great advantage the X3 has over other vehicles is the expertly designed X3 dimensions, which provide a surprising amount of cargo space to Bloomington drivers. BMW of Bloomington explores the X3 trunk space and X3…