5 Best Pizza Places in Bloomington, IL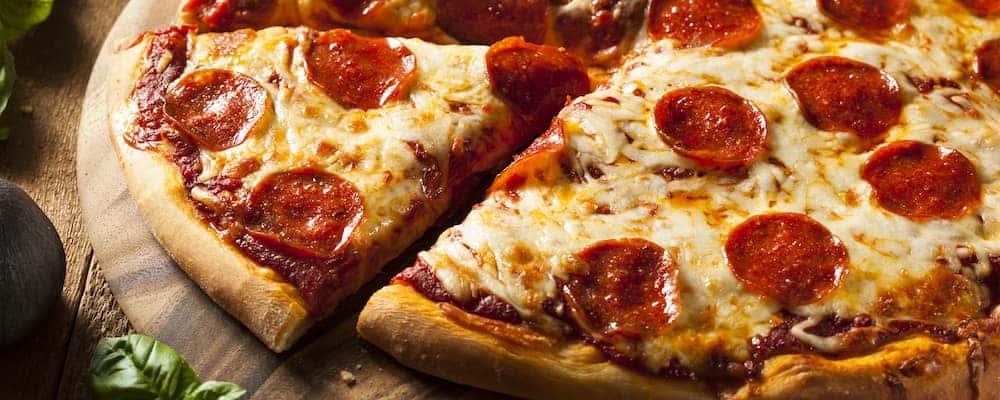 Whether you're planning a big party or just looking for things to do in Bloomington, there is enough pizza in Bloomington, IL to eat at a new place every night for weeks. With so many restaurants in Bloomington, it can be tough to make a choice — we're here to help. When you want something different than Domino's or Pizza Hut, try one of our 5 favorite pizza places in Bloomington.
Tobin's Pizza
Could we have a list of Bloomington-Normal pizzerias without Tobin's on it? We're starting off with them because a visit to Tobin's Pizza is a 2-for-1: you can also order the famous Micheleo's pizza from their menu. Both famous for their thin crusts, Micheleo's is a bit thicker — a great choice for the pizza connoisseur who wants to taste the crust alongside the toppings and sauce. Both Tobin's and Micheleo's are available in a thick pan pizza as well. It's tough to pick a favorite, but the Ozark BBQ Deluxe should probably be tried by all, and don't forget the Tobin's Family Buck Stretcher — order a 16-inch pizza and take home a 10-inch of the same kind for just $1.
Grady's Pizza
Though they started as a small shack on Morrissey, Grady's Pizza has grown substantially over the years to bring as much entertainment to your evening as their pizza does to your taste buds. Their pizza is made with a unique, sweet sauce that has made them famous in Central Illinois. Give it a try with sausage or pepperoni for a sweet/savory mix that you won't find anywhere else. And after the food has settled, head over to their Family Fun Park for mini golf, go karts, and more.
Lucca Grill
A full-service Italian restaurant, Lucca Grill is a Bloomington institution that has served generations of families from its location on the corner of Market and East. If you've never had a Lucca pizza before, we think it's best to start with the famous A La Baldini (savory sausage, pepperoni, ham, onions, mushrooms, green peppers and pepperoncini), but their thin crust, savory sauce, and long list of toppings means you can compile the pizza of your dreams with ease.
Flingers Pizza Pub
A long-time favorite of downtown Bloomington night life, we know quite a few locals who were disappointed when Flingers closed their doors. It's why we're so excited that Flinger's Pizza Pub re-opened with their famous Cheese Bombs and Flinger Rolls alongside good old-fashioned pizzas and calzones. Now located at 1503 East Vernon, it's almost like Flingers never closed. In addition to their near endless list of pizzas and appetizers, they also feature an extensive craft beer selection, including locals like White Oak and Triptych.
Monical's Pizza
The only chain restaurant on our list, Monical's is a midwestern favorite and offers a pizza that's both familiar and unique. From their famous, triangular POINT pizza to traditional thin crust and deep dish, they cover all of their bases. Choose a simple sausage or spring for a specialty pie like their BBQ Chicken or Florentine. Don't forget to try their famous Sweet and Tart dressing — on the salad or on the pizza!
Explore the Area
If you need to recover from a food coma after an amazing pizza experience, revive yourself at one of the best coffee shops in Bloomington. BMW of Bloomington is happy to help you with any local recommendations you may need, like things to do in Uptown Normal!
More From BMW of Bloomington
The new BMW X3 is here and it's ready to help you take on the Normal roads in pure comfort. While its exterior design is easy to look at, its interior is where thing really shine. With the latest interior technology and generous interior dimensions, the 2023 BMW X3 is made to allow you and…

The 2023 BMW X1 has been updated to ensure you're getting an innovative and exciting vehicle to help you take on the Normal roads. Its exterior design is modern and sophisticated and its driving experience is something you won't forget. However, what makes the new BMW X1 really special is its interior cabin. From the…

When you choose a new BMW, you're getting a vehicle that's designed to keep you comfortable and content during your Normal commute. The 2023 BMW X5 is no different than any other BMW and it remains as comfortable as ever in the cabin. It features generous interior dimensions so you and your passengers can stretch…