What is the BMW Recommended Tire Pressure?

To ensure optimal performance and safety on the Decatur roads, it is important that your vehicle is at the proper BMW tire pressure. The recommended tire pressure for most BMW tires is 32 PSI (pounds per square inch), but you should always make sure by checking the sticker on the inside edge of the driver's door. Your owner's manual should also have this information. Learn more about BMW tire care form the service experts at BMW of Bloomington.
How to Check Tire Pressure
In addition to making sure your BMW X5 or 3 Series is handling at its full potential on the roads in and around Normal, maintaining the correct BMW tire pressure should also help your vehicle run more efficiently. According to the Department of Energy, properly inflated tires could help improve fuel efficiency by as much as 3.3%.Most new BMW models come with a tire pressure monitor, so you will always be alerted if there is an issue with your tire air pressure. When checking tire air pressure, it is best to perform this task when the tires are cold, that is, not immediately after the car has been driven. Learn how to check tire pressure by following the steps below.

Unscrew the valve stem cap
Place a tire pressure gauge onto the valve stem and press it down firmly
The tire pressure gauge will display the PSI
Remove the gauge
Replace the valve stem cap
If your tire gauge shows that your tire air pressure exceeds the recommended PSI, let some of the air out by pressing down the center plunger in the valve stem, and recheck. If you notice that your tire air pressure is too low, make sure to add enough air to bring it up to the recommended level.
If you prefer to leave this task to the professionals, you can bring your vehicle to the BMW of Bloomington service center near Decatur. We will be happy to check the tires on your car, as well as your BMW spare tire, to make sure they're good to go.
Some Tire Care Basics
It is important to perform a visual inspection of your tires on a regular basis. If the tread is worn down, or if there is any cracking in the sidewalls, it is time for the tires to be replaced.
If you find that your tires are regularly losing air pressure, it could indicate a slow leak that should be addressed immediately.
In addition to ensuring the proper tire air pressure, it is also important to keep up with other tire maintenance tasks such as tire rotation and wheel alignment. Consult your BMW owner's manual for the recommended service intervals.
Expert BMW Tire Care is Available at BMW of Bloomington
The highly-skilled technicians at the BMW of Bloomington service center would be glad to assist with all of your tire care and BMW maintenance needs. We offer a fine selection of BMW tires from major brands such as Goodyear, Michelin, and Pirelli that will provide the performance and safety you want on the streets and highways around Pekin. If you have any other vehicle maintenance questions, or need to replace your BMW key fob, be sure to contact us.
BMW Tire, Oil Change, and Maintenance Coupons
BMW of Bloomington
1604 Commerce Pkwy, Bloomington, IL
Service: (309) 948-6495
Tire Special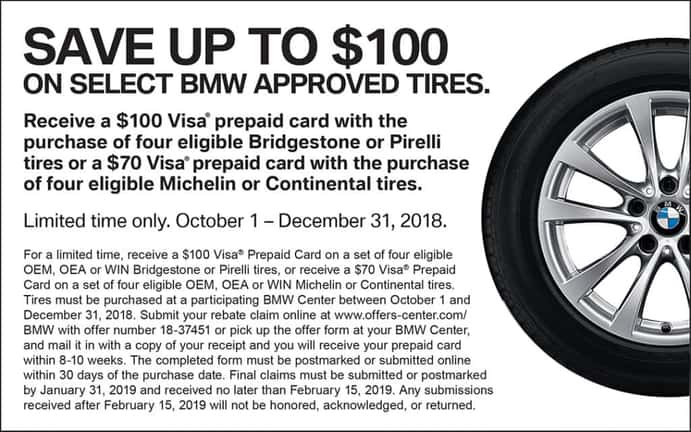 BMW of Bloomington
1604 Commerce Pkwy, Bloomington, IL
Service: (309) 948-6495
Tire Special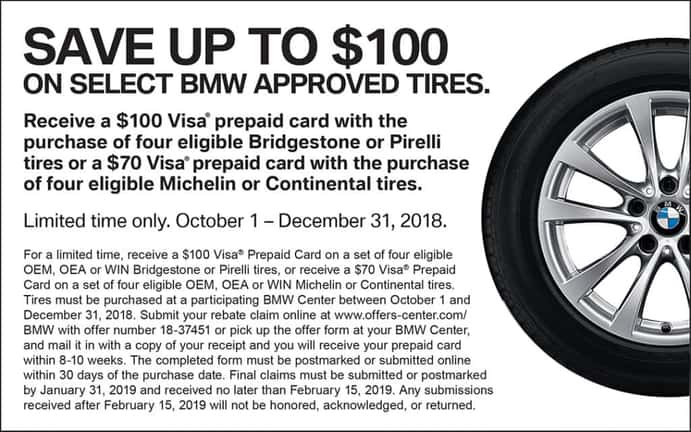 BMW of Bloomington
1604 Commerce Pkwy, Bloomington, IL
Service: (309) 948-6495
BMW Value Service Oil Change
More From BMW of Bloomington
When you're driving around Normal in a new BMW vehicle, you're treated to a driving experience that's unlike any other. With dynamic handling and plentiful performance, there's nothing quite like driving a BMW. With that being said, many shoppers are looking to upgrade to an electric vehicle but they're worried about giving up performance for…

The BMW X7 has built a legendary reputation for providing families like yours with a comfortable and luxurious vehicle to take on Normal adventures with ease. The 2022 BMW X7 delivers unbeatable performance and innovative features that'll really have you feeling special as you take on the Decatur roads. With so much to love inside…

The 2022 BMW X5 features an exterior design that's easy to look at and a driving experience that's easy to live with on the Normal roads. However, that's just the beginning of how the new BMW X5 will make you feel confident during your drives. Climb inside of the 2022 BMW X5 interior, and…