Curious about how to check tire tread depth? There's no real mystery. Once you've learned the recommended tire tread depth and memorized the steps in the penny test, there won't be anything that can slow you down around Decatur and Pekin — just remember to keep your vehicle at the recommended tire pressure, too.
What is the Recommended Tire Tread Depth?
When you first pick up a set of new tires, your tire tread depth will most likely fall between 10/32 and 11/32 of an inch, or just about ⅓ of an inch, if you don't mind approximating. Specialized tires, such as winter tires, will likely have a different depth, and some heavier vehicles may include tires with a little something extra.
If you check your tire tread, and you find that the depth is 2/32 of an inch or less, you'll need to have that tire replaced as soon as possible. That's according to the U.S. Department of Transportation, which recognizes that properly maintained and inflated tires have an enormous impact on vehicle performance.
How Do I Check Tire Tread Wear with a Penny?
Our friends and neighbors often call us asking, "How do I check tire tread wear without specialized equipment?" and so the penny test is one of our favorite tricks to share! It really couldn't be easier:
With Lincoln's head facing towards you, insert a penny into the tire tread groove.
Just look: If you can see the entirety of Lincoln's face, that means your tire treads are definitely smaller than 2/32 of an inch. That means it's time for a replacement set.
Repeat this step with all four tires. If you've been rotating your tires with our service department, they should all be about the same. If not, you may need to replace those tires one at a time.
Remember, it doesn't hurt to check each tire multiple times, at multiple locations. This might even help you identify a misaligned wheel.
Although you can use a simple ruler to check your tread depth, a 12-inch ruler might have trouble slipping between your tire and the wheel well.
Why Should I Check My Tire Treads Regularly?
As we alluded to above, tires with the right amount of tread are simply better suited to power your Normal drives! In the first place, tires that are worn out are far more likely to flatten or burst on one of your daily drives, but you can easily avoid these scary moments by being proactive.
Drivers in the area may not realize that properly cared for tires will also help you burn less fuel and stay safer in inclement weather! You'll also reduce brake wear and minimize the likelihood of misalignment. A smoother ride is just icing on the cake.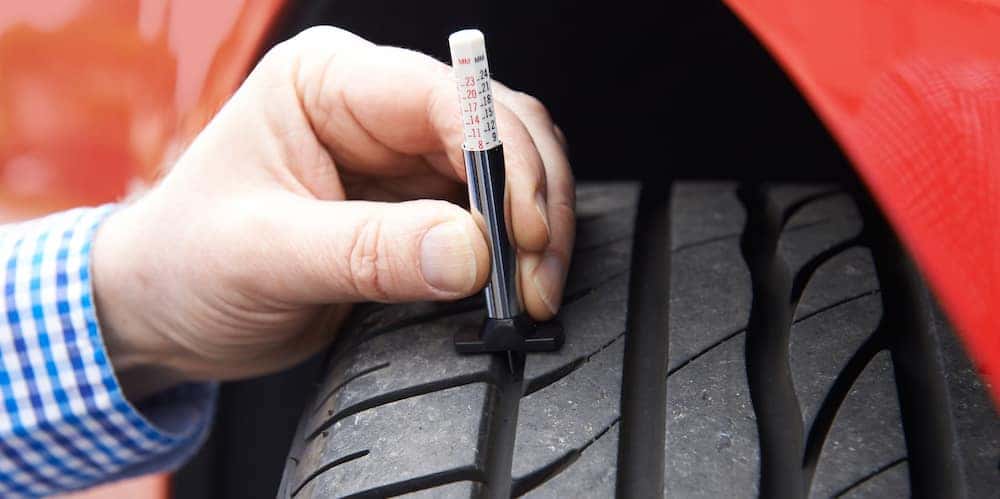 Maintain Your Tires at BMW of Bloomington
Even if you check your tire tread regularly, you'll need to replace your tires eventually. When that day comes, it's easy to schedule service or get the help you need with the BMW of Bloomington service department. We can also inspect your tires for wear and tear each time to bring your BMW in for maintenance–just don't forget to check our rotating Bloomington parts and service specials!
Now that you've learned how to check tire tread depth at home, you may want to find out how to update BMW software, how to jumpstart a BMW, or learn more about the benefits of genuine BMW OEM parts. Get the facts with BMW of Bloomington.