2019 BMW X5 Towing Capacity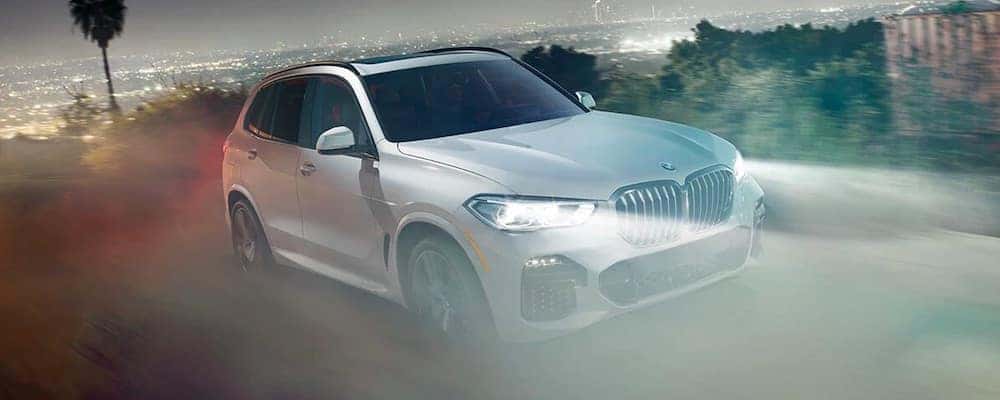 The 2019 BMW X5 towing capacity ranges from 6,600 to 7,200 pounds maximum, depending on the model – more than 2,000 pounds higher than the BMW X3 towing capacity. If you're needing to help a friend move around Bloomington or Normal, the BMW X5 itself has a payload capacity of up to 1,349 pounds. Learn more about X5's towing, off-road capabilities, and overall performance with BMW of Bloomington. Looking for a newer model? The 2020 X5 owing specs still impress.
BMW X5 Tow Package
brand-new X5 xDrive40i or X5 xDrive50i, the BMW X5 tow hitch can be added on with the Tow Package.
When you purchase a
This Class III trailer hitch allows Decatur and Pekin drivers to max out the X5's towing capacity to 7,200 pounds.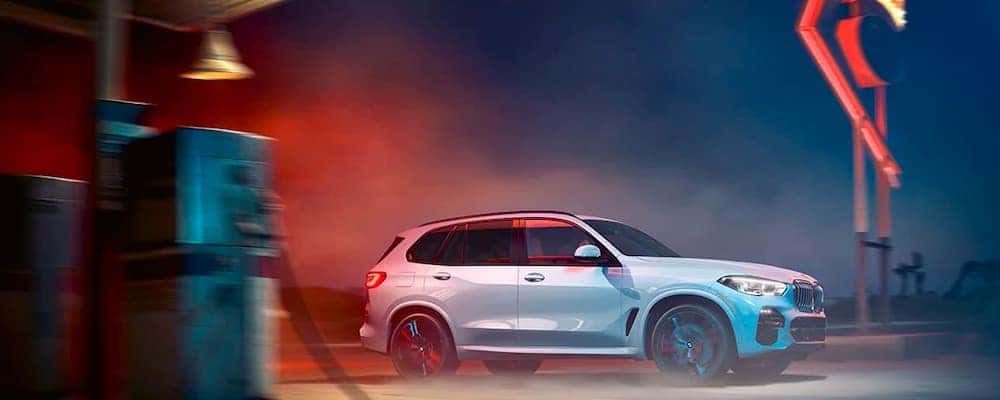 Off-Road Towing
You're probably planning to take your SUV off-road, but if you're planning to tow off-road, you should be prepared with xDrive and the Off-Road Package. The Off-Road Package upgrades balance and comfort with:
Front/Rear Underguards: These guards help protect the undercarriage of your BMW from bumpy or rocky terrain, ensuring it can tackle nearly any route you set yourself on.
Two-Axle Air Suspension: This available air suspension allows you to raise or lower the BMW X5 as much as 1.6 inches when operating at low speeds.
Electronically-Controlled Rear Differential Lock: With the M Sport Differential, the X5 benefits from a rear-wheel locking effect for improved control during cornering.
Four Driving Modes: Choose from four terrain options — sand, rock, gravel, and snow — and the BMW X5 will adjust vehicle height, AWD, power steering, and more to best accommodate the ground you're driving on.
Critics Weigh in on BMW X5 Towing
All the numbers and packages support the BMW X5 towing specs making it the smart choice for a luxury SUV, but what happens when it's put to the test? Here's what Boating Magazine had to say:
"The X5 performed amazing feats – it pulled more than five tons of gross combined weight and accelerated from 0 to 60 mph in less than 17 seconds."
More than just an SUV for helping a friend move, the BMW X5 towing capacity allows you the freedom to do so much more. For more proof, find out how it compares to a rival like the 2019 Volvo XC90!
BMW X5 Engine Options
The BMW X5 xDrive40i and X5 xDrive50i offer unique engines.
3.0L Twin-Turbo Inline-6: Standard for the X5 xDrive40i, the 3.0L is paired to an 8-speed automatic and is capable of 335 hp and 330 lb-ft of torque, with an EPA-estimated 26 highway mpg.
4.4L TwinPower Turbo V8: On the X5 xDrive50i, the 4.4L V8 is also paired with an 8-speed automatic, rated at 456 hp and 479 lb-ft of torque and with an EPA-estimated 22 highway mpg.
With available engines such as these, the BMW X5 performance makes it the clear pick over rivals like the Audi Q5 or the Acura MDX.
Test Drive the New X5 at BMW of Bloomington in Bloomington!
Contact us at BMW of Bloomington to learn more about the BMW X5 towing capacity, the legacy of BMW excellence, and to see an X5 interior in person. We can discuss whether you need the BMW X5 trailer hitch or the off-road package, and the benefits of each. Need more towing capacity? Compare the BMW X5 to the new BMW X7.
Learn More About the BMW X5
The 2019 BMW X5 is one luxury midsize SUV that has it all! Although it's popular with drivers from all walks of life, from Pekin to Champaign and beyond, it's easy to make it your own with a few carefully chosen BMW X5 accessories. Whether you're hoping to protect your investment, upgrade your interior, or…

The 2019 BMW X5 offers Normal drivers an elegant and comfortable interior to improve their commutes, with features like the premium Harman/Kardon Surround Sound System and a large panoramic moonroof for an airy cabin feel. Explore the BMW X5 interior at BMW of Bloomington, then contact us for a test drive to experience it in person! New BMW X5…

The 2019 BMW X5 towing capacity ranges from 6,600 to 7,200 pounds maximum, depending on the model – more than 2,000 pounds higher than the BMW X3 towing capacity. If you're needing to help a friend move around Bloomington or Normal, the BMW X5 itself has a payload capacity of up to 1,349 pounds. Learn…